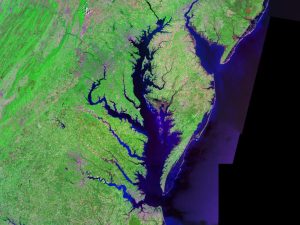 Potter County is unique and fortunate to be home to the headwaters of three major river systems, the Susquehanna, the Allegheny, and the Genesee. The Susquehanna which encompasses approximately 1/3 of the entire county (approximately 694 square miles) is part of the larger Chesapeake Bay watershed. Over the past several years, there has been much focus and effort from federal, state, and local agencies to help reduce the amounts of nutrients, particularly nitrogen and sediment, from entering the Chesapeake Bay.
Since 1972 the Clean Streams Law in PA has required all farms that produce or use manure, or produce crops to have a manure management plan based on the DEP Manure Management Manual as well as an Ag Erosion and Sedimentation Plan.  In the past, this requirement has mainly been enforced based on complaints or actual pollution incidents.  Today, EPA and DEP are taking a more active part in verifying the existence of these plans through what is being called the Chesapeake Bay Reboot Strategy. This is due to Pennsylvania not meeting the benchmarks set in the EPA's Chesapeake Bay Model.
As part of this effort, the Potter County Conservation District has been asked to participate in the Chesapeake Bay Program by visiting farms to verify that the two required plans have been developed. The District sees this as an opportunity to work with local farmers to get them the credit they deserve, and also to help those producers that may not have the required plans get the plans that they need in order to remain in compliance with the state regulations. Farmers have been making huge strides in recent years by developing and implementing methods that are friendlier to our environment. The District sees this as an opportunity to continue to assist producers in making their operations more profitable by sharing current innovative management tools and techniques.
The Potter County Conservation District's mission is to provide leadership to ensure the protection of the natural resources of Potter County through project implementation, educational programs, technical assistance, and by fostering public and private partnerships. It is our goal to be the local grassroots, boots on the ground individuals who can educate and assist local farmers and citizens. The District looks forward to partnering with these individuals, whether in the Chesapeake Bay or any other watershed within Potter County, to develop plans, best management practices (BMP's), and other tools that will ultimately reduce nutrients and sediment from entering our pristine waters, thus protecting our valuable natural resources here in Potter County for current and future generations.   
http://www.dep.pa.gov/Business/Water/Pages/Chesapeake-Bay-Office.aspx
http://files.dep.state.pa.us/Water/ChesapeakeBayOffice/DEP%20Chesapeake%20Bay%20Restoration%20Strategy%20012116.pdf