EQUIPMENT RENTALS:
2023 Updates:
Our no-till equipment can be rented by Potter County producers ONLY.
Rental and delivery rates have increased. Please see the rental item description for more details.
New 5-acre minimum acreage charge
No-till Equipment
The Potter County Conservation District offers our county producers the ability to have a complete No-Till system on their operation by having two No-Till Drills and a No-Till Corn Planter.  Farmers are able to plant corn, soybeans, grasses, legumes, and small grains for cash crops, pasture renovations, and fall cover crops. Rental is first come first serve! Call us to schedule (814) 274-8411 ext. 4.
Benefits By Adopting No-Till:
Reduces Non-point Source Pollution
Reduces Soil Erosion
Protects Water Quality
Reduces Chemical Runoff
Reduces Soil Compaction
Permanent Ground Cover
Retains Soil Moisture
Reduces Labor and Time
Reduces Fuel Usage
Increases Organic Matter
Improves Infiltration
Improves Soil Quality
Equipment Rental Procedures:
Contact PCCD to schedule rental date.
Once scheduled, the District will deliver equipment to your operation.
Upon delivery, a Contract Agreement will need to be signed by the renting party.
If assistance is needed, the District Technician will help with proper setup of the machine.
When completed with equipment, clean all seed and fertilizer from machine. Once cleaned contact the District to let them know the equipment is ready to be picked up.
An invoice will be mailed out after planting acreage has been determined.
Rental is FIRST COME FIRST SERVE, so schedule your anticipated use TODAY!!!
Great Plains 1006 No-Till Drill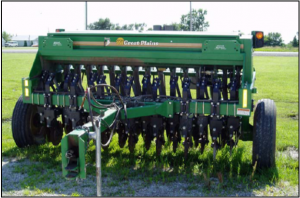 Features
10-foot planting width, 13 foot transport width
Great for Nurse Crop Seeding. Can plant two types of seeds (oats & alfalfa) at different depths.
Weight of drill used for down pressure
Tractor Requirements
70 hp, 4 wheel drive OR 80 hp, 2 wheel drive
Hydraulics
Rental Rate
$20 per acre ($40 per acre if used on conventionally tilled ground)
$50 delivery fee
John Deere 1590 No-Till Drill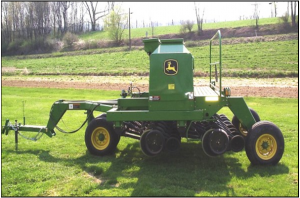 Features
10-foot planting width, 10 foot transport width
Able to plant 15" Soybeans
Designed for Direct Seeding. Cannot plant two types of seeds (oats & alfalfa) at different depths.
Hydraulic down pressure
Tractor Requirements
70 hp, 4 wheel drive OR 80 hp, 2 wheel drive
Hydraulics
Rental Rate
$20 per acre ($40 per acre if used on conventionally tilled ground)
$50 delivery fee
John Deere 7200 No-Till Corn Planter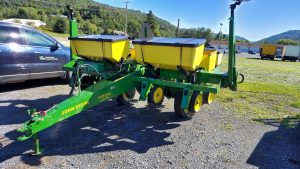 Features
4 Row 30 inch spacing, 11 foot transport width
Dry Fertilizer Boxes
Tractor Requirements
60 hp, 4 wheel drive OR 75 hp, 2 wheel drive
Hydraulics
Rental Rate
$23 per acre ($46 per acre if used on conventionally tilled ground)
$50 delivery fee
$50 Penalty will be assessed if fertilizer is left in fertilizer boxes