B40 Finn Straw Blower
Provided with a 16′ trailer to transport and store straw. 
Shreds and blows 2-3 bales of straw in less than a minute
Shreds and blows up to 120 bales of pine straw an hour
Convenient discharge spout assures the most accurate directional discharge, operational ease and the ability to handle difficult materials.
Ideal solution for proper and precise mulching with straw or pine straw
Provides soil moisture retention and protection against wind damage
Discharge head has a 360 degree rotation and 50 degree vertical travel
Horizontal, collapsible feed tray which provides the most convenience and operator efficiency for feeding straw bales into the machine. This also eliminates the unnecessary labor involved in hoisting the bales overhead and feeding the machine vertically from the top
Buffalo Turbine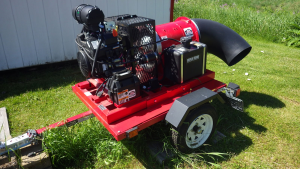 Towed behind a truck or ATV for road ditch maintenance.
Both units available free of charge to all parties eligible for the DGLVR Program. Contact the District at (814) 320-4011 to take advantage of this free equipment.