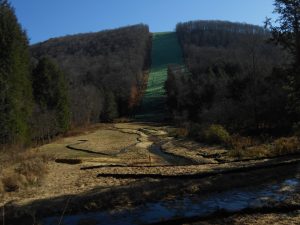 The Potter County Conservation District (PCCD) administers the Pennsylvania Clean Streams Law, Chapter 102, the Erosion and Sediment Pollution Control (E&SPC) Program through a signed delegation agreement with the Department of Environmental Protection, Bureau of Water Quality Protection. The PCCD is a level II District. Level II Districts review E&S plans, perform field inspections on earth disturbance sites, investigate complaints, provide technical assistance and if necessary refer cases to the appropriate regulatory agencies for action under the PA Clean Streams Law.
The PCCD also administers the Chater 105, Dam Safety and Waterway Management. Specifically, Water Obstruction and Stream Encroachment General Permitting (GP's). More information is available under our General Permits page and on the Department of Environmental Protection's (DEP) website.
105 General Permit Registration
Effective October 10, 2018, DEP has moved to electronically-submitted permitting through the ePermitting Portal. Through this process, the District will continue to offer guidance and technical support. Paper applications are still being accepted during the phase-out process, however electronic applications may be completed online or in our office for interested applicants. For more information, visit the DEP page on ePermitting for Chapter 105 Water Obstruction and Encroachments General Permits.